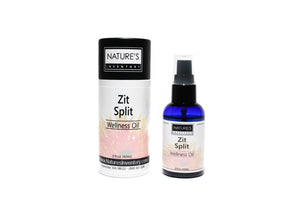 2 fl oz bottle
Organic ingredients
Never tested on animals
No drug interactions
No side effects
Non habit forming
No harsh chemicals
No synthetic ingredients
No synthetic fragrances
No synthetic preservatives
No petroleum based ingredients
Gentle, safe and effective
While generally regarded as safe after the first trimester when pregnant, it's always a good idea to check with your doctor before using any product.
Safe to use on children over the age of two.
Zit split is a natural option for clear skin, without the harsh chemicals that will dry out your skin; causing it to over produce oil and make acne worse. Coconut oil lifts dirt out of pores while providing much needed moisture to the skin. The essential oils in this blend will kill blemish causing bacteria. This clears acne and reduces scaring, leaving your skin clean, clear, and glowing.
INGREDIENTS

DIRECTIONS

Cocus Nucifera

(fractionated coconut oil)

, Vitis vinifera

(grapeseed oil)

, lavandula officinalis

(organic lavender essential oil)

, melaleuca alterniflora

(organic tea tree essential oil)

, & citrus bergamia

(organic bergamot essential oil)

.

Shake before use. Apply a small amount of oil directly to affected skin. Use nightly for best results.