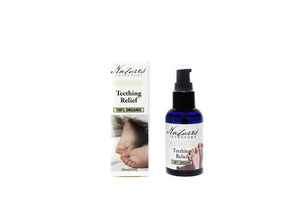 2 fl oz bottle
Organic ingredients
Never tested on animals
No drug interactions
No side effects
Non habit forming
No harsh chemicals
No synthetic ingredients
No synthetic fragrances
No synthetic preservatives
No petroleum based ingredients
Gentle, safe and effective
Our oil is completely natural unlike most ointments that are traditionally placed in a baby's mouth to treat a baby's teething issue. Lavender and chamomile safely go to work to relieve pain on contact in addition it offers a calming aromatherapy scent to soothe both baby and parent.
As a parent, there is nothing more difficult than dealing with your child in pain and feeling like there is nothing you can do to.
INGREDIENTS
DIRECTIONS
Simmondsia Chinensis

(organic jojoba oil),

lavandula officinalis

(organic lavender essential oil),

& matricaria chamomilla

(organic chamomile essential oil).

Shake before use. Massage a small amount of this soothing oil onto the outside area of your baby's cheeks. Allow to sit as long as possible then wipe off excess oil. For external use only. Common sense safety, keep out of reach of children.