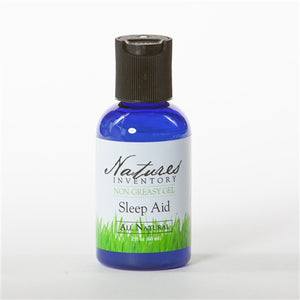 2 fl oz bottle

Organic ingredients

Never tested on animals

No drug interactions

No side effects

Non habit forming

No harsh chemicals

No synthetic ingredients

No synthetic fragrances
No synthetic preservatives 

No petroleum based ingredients

Gentle, safe and effective

While generally regarded as safe after the first trimester when pregnant, it's always a good idea to check with your doctor before using any product.
Safe to use on children over the age of two
Our Sleep Aid Gel helps you to fall asleep faster and get into a deeper state of REM sleep. This all natural oil is formulated to help you relax and unwind so you can put your mind and body to rest and wake up refreshed without a dazed or groggy feeling.


INGREDIENTS
DIRECTIONS

Ingredients:

Natural water based gel

, lavandula officinalis

(organic lavender essential oil)

, santalum album

(sandalwood essential oil)

, & jasminum grandiflorum

(jasmine essential oil)

.

Shake before use.  Apply a small amount of gel to your shoulders, chest, wrists, or any area of your skin where you will be able to smell this oil.