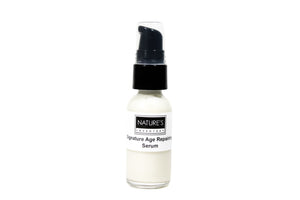 Our Signature Serum is packed with all the essential nutrients that you need to fight back against the march of time. This power is packed with the active ingredients of Hyaluronic Acid, DMAE, vitamin A, B, C & E, CoQ10 and alpha lipoic acid, along with multifruits and the wonder oil meadowfoam.
Skin Types: Mature - Dry - Normal - Combination - Sensitive
INGREDIENTS
Rosa damascena (Rose) Distillate, Aloe barbadensis (Organic Aloe Vera) Juice, Propylene Glycol, Vegetable Glycerin, Dimethylaminoethanol (DMAE), Emulsifying Wax, Limnanthes alba (Meadowfoam Seed) Oil, Vaccinium myrtillus (Organic Bilberry) Extract, Saccharum officinarum (Organic Sugar Cane) Extract, Acer saccharinum (Organic Sugar Maple) Extract, Citrus auranium dulcis (Organic Orange) Fruit Extract, Citrus medica limonum (Organic Lemon) Extract, Vaccinium macrocarpon (Organic Cranberry) Extract, Tocopherol (Vitamin E), Ascorbyl Palmitate (Vitamin C Ester), Phenoxyethanol, CoQ10 (Coenzyme Q10), Beta Carotene (Pro Vitamin A), Retinol Palmitate (Vitamin A), Alpha Lipoic Acid DL- Thioctic Acid, dl-Panthenol (Pro-Vitamin B5), Niacinamide (Vitamin B3), Daucus carota (Carrot) Oil, Lecithin, Xanthan Gum (Polysaccharide Gum), Citric Acid, and a proprietary blend of 100% pure essential oils.