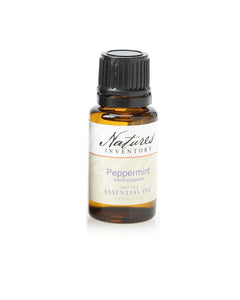 Parts Used
Flowering plant
Botanical Name
Mentha piperita
Extraction Method
Steam distilled
Aroma
Fresh, very minty, hot, herbaceous, with a vegetative back note
Benefits
indigestion, respiratory problems, headache, nausea, fever, stomach and bowel spasms, as well as for pain relief.
Overview
Peppermint oil has many culinary and pharmaceutical uses. It is also used for its soothing qualities on the digestive system.
Herbal Actions
Analgesic, antiseptic, astringent, carminative, cholagogue, cordial, digestive, emmenagogue, expectorant, febrifuge, insecticide, nervine, sedative, stimulant, stomachic, vasoconstrictor, vermifuge
Blends Well With
Basil, benzoin, black pepper, cypress, eucalyptus, geranium, grapefruit, juniper, lavender, lemon, marjoram, niaouli, pine, ravensara, rosemary, tea tree
Herbal Miscellany
Mild climate stress in the growing conditions of the plant increases the oil content and sesquiterpene levels in the oil.
Precautions
Oil Specific: Avoid in epilepsy and while pregnant. May cause skin irritation. Avoid with homeopathics.
General: As with all essential oils, never use them undiluted, in eyes or mucus membranes. Do not take internally unless working with a qualified and expert practitioner. Keep away from children. If applying an essential oil to your skin always perform a small patch test to an insensitive part of the body (after you have properly diluted the oil in an appropriate carrier.
For educational purposes only. This information has not been evaluated by the Food and Drug Administration. This information is not intended to diagnose, treat, cure, or prevent any disease.
This information was taken from essentialoilbenefits.org and mountainroseherbs.com