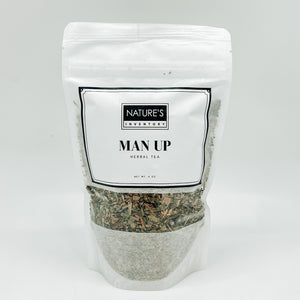 'Medicus curat, natura sanat' –
'The doctor treats, but natures heals'
Our herbal teas are designed to rejuvenate your system on all levels. Mind, body, spirit.

Organic and Wild Crafted Herbs

Naturally Caffeine Free

Promotes Healthy Testosterone Levels

Loose leaf tea provides 40-60 servings
As men age, their testosterone levels decrease, leaving them feeling less manly. Lower testosterone levels effect much more than just a man's libido, it can also affect their mood, bone and muscle strength, memory and concentration, cause weight gain, and interfere with a good night's sleep. Our Man Up! Herbal Tea increases testosterone levels naturally. When used daily, the effects will be noted in 7-10 days.
INGREDIENTS
DIRECTIONS
Organic and wildcrafted herbs of:
muira puama bark, catuaba bark, damiana leaf, peppermint, gingko, hawthorn berries.

You will use about 1 teaspoon per 8 ounces. You can adjust this to your own taste.
1 bag of our tea will typically make 40 - 60 - 8 ounce servings.



To brew your tea-


To extract the essence out of herbal teas, they must be brewed in water that is at or near boiling and for a duration of 5 - 7 minutes. For a more medicinal effect steep 15-30 minutes. Will keep refrigerated for 24 hours.