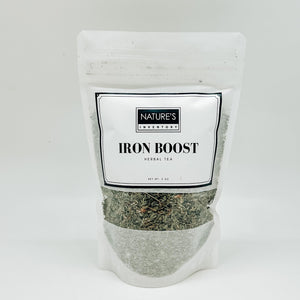 'Medicus curat, natura sanat' –
'The doctor treats, but natures heals'
Our herbal teas are designed to rejuvenate your system on all levels. Mind, body, spirit.

Organic and Wild Crafted Herbs

Naturally Caffeine Free

Promotes Healthy Iron Levels

Loose leaf tea provides 40-60 servings
Iron is essential for robust health and energy as it provides life-giving oxygen to human blood cells. Women and children often need more iron than men do, and if your diet does not include enough iron in it, add a cup or two of this wonderful tea to your diet!
Iron is important for:
Hemoglobin formation: Formation of hemoglobin happens to be the chief function of this mineral. Not only that, being a part of hemoglobin, it gives the dark red shade to the blood and also aids in transporting oxygen to the body cells.
Muscle function: Iron is a vital element for muscle health. It is present in the muscle tissues and helps in supply of oxygen required for contraction of muscles.
Brain function: Development of brain is also one of the many benefits of iron. Since oxygen supply to blood is aided by iron and brain uses approximately 20% of the blood oxygen, iron is directly related to brain health and its functions.
Restless leg syndrome: Iron deficiency is one of the causes of the restless leg syndrome. Most research on this syndrome has concentrated on iron. Lower level of iron in the blood is a major cause and hence proper intake of iron supplements in required levels as per doctor's consultation can cure this problem.
Regulation of body temperature: Iron is a facilitator for regulating body temperature. An interesting fact is that it has the ability to regulate as per the absorption capacity of the body.
Oxygen carrier: One of the most important health benefits of iron is that it acts as a carrier of oxygen and thus participates in transferring oxygen from one body cell to other. This is an important function of iron, as oxygen is required by each and every body part to perform routine functions.
Neurotransmitters synthesis: Iron actively takes part in the synthesis of a number of essential neurotransmitters like dopamine, norepinephrine, along with serotonin. These chemicals play major role in different activities involving neurons and human brain.
Iron deficiency anemia: Iron is helpful in the treatment of severe disorder called iron deficiency anemia, which results due to lack of adequate amount of iron in human body.
Chronic diseases: The mineral called iron helps in the treatment of chronic disorders like renal failure anemia.
Anemia in women: Iron may also exhibit its health benefits in curing anemia resulting in women during pregnancy or menstruation.
Predialysis anemia: It is recommended by health experts that iron qualifies to treat another form of anemia called predialysis anemia. However, one must consult a medical expert to get treatment for this problem.
Fatigue: Health benefits of iron also include eradication of different causes of fatigue, which may occur in men as well as women. Iron deficiency is a natural cause of fatigue since it is an important component of hemoglobin. So, the inclusion of iron in your diet keeps you fit and healthy.
Immune system: Iron also plays a key role in providing strength to the immune system of human body. Thus, the body is made proficient enough to fight against a number of diseases and infections.
Energy metabolism: Iron is an important spectator of energy metabolism in human body by which, the energy is extracted from the food consumed and distributed to different body parts.
Enzyme systems: Iron happens to be the most important constituent of different enzyme systems and other important constituents like myoglobin, the cytochromes and catalase.
Insomnia: Iron is also useful in treating insomnia in human body and also improves the sleeping benefits in the life of an individual.
Concentration: Iron, when consumed in sufficient amount in the diet, builds concentration amongst the students and professional people to carry out their work efficiently.
INGREDIENTS
DIRECTIONS
Organic and wildcrafted herbs of:
alfalfa leaf, dandelion leaf, nettles, peppermint, & lavender.

You will use about 1 teaspoon per 8 ounces. You can adjust this to your own taste.
1 bag of our tea will typically make 40 - 60 - 8 ounce servings.



To brew your tea-


To extract the essence out of herbal teas, they must be brewed in water that is at or near boiling and for a duration of 5 - 7 minutes. For a more medicinal effect steep 15-30 minutes. Will keep refrigerated for 24 hours.