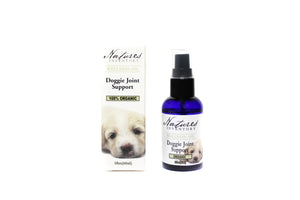 2 fl oz bottle
Organic ingredients
Never tested on animals
No drug interactions
No side effects
Non habit forming
No harsh chemicals
No synthetic ingredients
No synthetic fragrances
No synthetic preservatives
No petroleum based ingredients
Gentle, safe and effective
NOT to be used on cats!
When joint pain is affecting your dog, it can tear at your heartstrings and leave you feeling helpless. This is one of our favorite products because of the almost instantaneous results you can see and your dog will show you in his expression. Turning old dogs into puppies, one household at a time!
For a loved pet in pain, relief can't come quickly enough. Luckily, we offer to you our all natural Joint Support Oil. Just get some on your hands and rub it onto the spine and painful joints on your dog. Because of both the massage and the therapeutic essential oils, your dog will feel better right away. Expect a happier best friend!
INGREDIENTS
DIRECTIONS
Simmondsia Chinensis (

organic jojoba oil

), rosmarinus officinalis (

organic rosemary essential oil

), eucalyptus globules (

organic eucalyptus essential oil

), & zingiber officinale (

organic ginger essential oil

).

Shake before use. Apply liberal amounts of oil to the joint and surrounding muscle as often as needed. For external use only. Common sense safety, keep out of reach of children. Not recommended for cats.