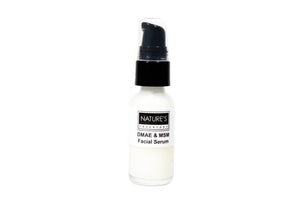 Lovely is the most common description we get from our customers. The combination of DMAE and MSM give this serum synergetic property that makes this a fabulous product for mature, sensitive, irritated, dry, oily and acneic skin.
Skin Types:
Mature - Dry - Normal - Sensitive - Combination
Organic Content:
Yes
pH:
4.5 – 5.5
DMAE is an amazing nutrient that extends the life of cells and inhibits the cross-linking of proteins, which gives the skin a nice tone and a firm appearance. This serum is very light and can be put on over or under the makeup. The firm appearance that DMAE can bring to the skin occurs within about 20 minutes and wears off by the end of the day. DMAE has become very popular, as a result of Dr. Nicholas Perricone, M.D.'s top-selling book, The Wrinkle Cure, in which he promotes supplementing with DMAE as a treatment for reducing wrinkles. When applied to the skin, DMAE stimulates the release of acetylcholine, which then triggers a response in the muscles of the face. This activity creates a firmer facial tone and less sagging.
MSM, methylsulfonylmethane, is a naturally occurring nutrient found in plants, meats, dairy products, fruits, and vegetables. MSM is, therefore, found in the normal human diet. It is an odorless, tasteless, white, water-soluble, crystalline solid in its purified form. MSM supplies sulfur to the body, which allows it to heal itself. It produces muscle relaxation and, reportedly, a whole host of beneficial qualities. It has been used with great success in eliminating chronic & muscle pain and repairing cut, scraped, burned & damaged skin. We've seen reports of MSM eliminating wrinkles, brown spots, skin tumors, and spider veins. MSM is being used for burn victims and repairing scar tissue. Many people report relief from allergies after using MSM. Other reports indicate that MSM will remove parasites from the body, and help the body to detoxify itself.
MSM is anti-inflamatory and anti-microbial. MSM feeds the formation of collagen and elastin while preventing and reducing cross-linking between cells, which is the primary cause of wrinkles and scar tissue. MSM is a natural sulfur compound that contributes to healthy skin, hair and nails. MSM has been used orally and topically to aid skin disorders. When used topically, in the form of a cream or lotion, sulfur is helpful in treating skin disorders, including acne, psoriasis, eczema, dermatitis, dandruff, scabies, diaper rash and certain fungal infections.
| | |
| --- | --- |
| INGREDIENTS | DIRECTIONS |
| Aloe barbadensis (Organic Aloe Vera) Leaf Juice, Vegetable Glycerin, Dimethylaminoethanol (DMAE), Limnanthes alba (Meadowfoam Seed) Oil, Emulsifying Wax, Methylsulfonylmethane (MSM), Spirulina maxima (Blue Green Algae) Extract, Tocopherol (Vitamin E), Salix nigra (Black Willowbark) Extract, Rosmarinus officinalis (Rosemary) Oleoresin, Azadirachta indica (Neem) Oil, Xanthan Gum (Polysaccharide Gum), Citric Acid | Moisturize your face and neck with serum every morning and/or night, after you cleanse and tone. Always moisturize your face and neck in upward motions. Moisturizing is important for all skin types. In every step of skin care, always use circular, upward motions with a gentle touch on your face. Don't help gravity by tugging down on your skin and remember that the skin on your face, especially around the eyes, is very delicate. |