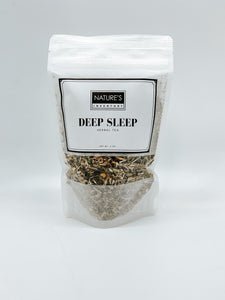 'Medicus curat, natura sanat' –
'The doctor treats, but natures heals'
Our herbal teas are designed to rejuvenate your system on all levels. Mind, body, spirit.

Organic and Wild Crafted Herbs

Naturally Caffeine Free

Promotes A Restful Night Of Sleep

Loose leaf tea provides 40-60 servings
For the toughest of our clients, our Deep Sleep tea works its magic in generating a replenishing night's sleep. Sleep is the only time your body has to heal and rejuvenate so if you are not getting your Z's it's time to give this tea a try! Passion Flower is a non-addictive tranquilizer for chronic insomnia, skullcap reduces pain and inflammation and promotes sleep, and chamomile is well known for its sleep inducing properties.
INGREDIENTS
DIRECTIONS
Organic and wildcrafted herbs of:
passion flower, skullcap and chamomile.

You will use about 1 teaspoon per 8 ounces. You can adjust this to your own taste.
1 bag of our tea will typically make 40 - 60 - 8 ounce servings.



To brew your tea-


To extract the essence out of herbal teas, they must be brewed in water that is at or near boiling and for a duration of 5 - 7 minutes. For a more medicinal effect steep 15-30 minutes. Will keep refrigerated for 24 hours.