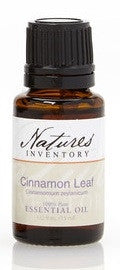 Overview
Cinnamon has been used for thousands of years by the Egyptians and others to cure ailments such as overactive bile production, and lack of sexual libido. It was also used in wine production and acted as an early sedative.
Botanical Name
Cinnamomum Verum
Parts Used
Leaves
Extraction Method
Steam distillation
Place of Origin
Bangladesh, Sri Lanka, the Malabar Coast of India and Burma
Note Classification
Middle
Aroma
Peppery, spicy, earthy, and musky.
Aroma Strength
Thin – medium
Color
Light yellow
Consistency
Slightly oily to the touch
Blends Well With
This oil complements lavender, rosemary, thyme, citruses, spice-like oils, myrtle, nutmeg, clove and frankincense.
Precautions
Oil Specific: Avoid cinnamon leaf essential oil during pregnancy. It is not good for sensitive skin as cinnamon oil is known to irritate the skin and can prove to be toxic to the epidermis. Avoid using for baths and in skin care products.
General: As with all essential oils, never use them undiluted, in eyes or mucus membranes. Do not take internally unless working with a qualified and expert practitioner. Keep away from children. If applying an essential oil to your skin always perform a small patch test to an insensitive part of the body (after you have properly diluted the oil in an appropriate carrier.
For educational purposes only. This information has not been evaluated by the Food and Drug Administration. This information is not intended to diagnose, treat, cure, or prevent any disease.
This information was taken from organicfacts.net and mountainroseherbs.com