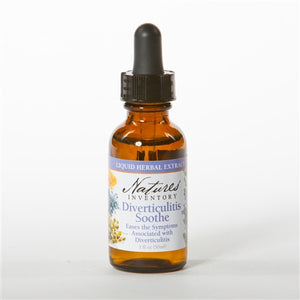 1 fl oz
Eases the Symptoms Associated with Diverticulitis



What is diverticulitis?
Diverticulosis happens when pouches (diverticula) form in the wall of the colon. If these pouches get inflamed or infected, it is called diverticulitis. Diverticulitis can be very painful.
What causes diverticulitis?
Doctors aren't sure what causes diverticula in the colon (diverticulosis).But they think that a low-fiber diet may play a role. Without fiber to add bulk to the stool, the colon has to work harder than normal to push the stool forward. The pressure from this may cause pouches to form in weak spots along the colon.
Diverticulitis happens when feces get trapped in the pouches (diverticula). This allows bacteria to grow in the pouches. This can lead to inflammation or infection.
| | |
| --- | --- |
| INGREDIENTS | DIRECTIONS |
| Organic grain alcohol, water, organic and wild crafted herbs of: wild yam, valerian, cramp bark, peppermint, marigold.  Alcohol content 55% | Shake before each use: Use 1 to 3 times per day, 20 drops (half a dropper full). Best if used under the tongue and held for 30 seconds, but can also be added to juice, water or hot tea. |