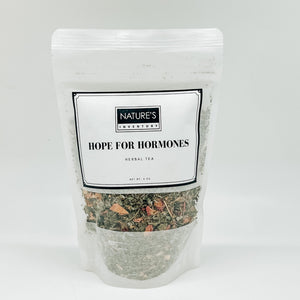 'Medicus curat, natura sanat' –
'The doctor treats, but natures heals'
Our herbal teas are designed to rejuvenate your system on all levels. Mind, body, spirit.

Organic and Wild Crafted Herbs

Naturally Caffeine Free

Promotes Balanced Hormone Levels

Loose leaf tea provides 40-60 servings
Using this tea daily throughout the month will make a major impact on your hormones. This formula includes herbs that are renowned for balancing hormones and support your liver. With a hormone imbalance it is vital that you support your liver as well as most hormone imbalances start with the liver!
INGREDIENTS
DIRECTIONS
Organic and wildcrafted herbs of:
chaste berry, red raspberry leaf, nettles, licorice root, dandelion leaf, wild yam, rose petals.

You will use about 1 teaspoon per 8 ounces. You can adjust this to your own taste.
1 bag of our tea will typically make 40 - 60 - 8 ounce servings.



To brew your tea-


To extract the essence out of herbal teas, they must be brewed in water that is at or near boiling and for a duration of 5 - 7 minutes. For a more medicinal effect steep 15-30 minutes. Will keep refrigerated for 24 hours.