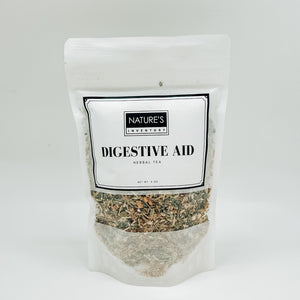 'Medicus curat, natura sanat' –
'The doctor treats, but natures heals'
Our herbal teas are designed to rejuvenate your system on all levels. Mind, body, spirit.

Organic and Wild Crafted Herbs

Naturally Caffeine Free

Promotes A Healthy Digestive System

Loose leaf tea provides 40-60 servings
Designed to work for a variety of digestion problems. Great for IBS, or an irritated stomach.


Keep in mind most digestive issues have something to do with the food we eat, so a "food challenge" is always a good bet when we are not feeling like ourselves. Till then (and during), try drinking this wonderful tea for an irritated stomach and even IBS. The herbs chosen help to improve digestion, soothe the gut lining, and help the body efficiently move out waste.
INGREDIENTS
DIRECTIONS
Organic and wildcrafted herbs of:
Cinnamon, chamomile, ginger, marshmallow, raspberry leaf, and astragalus.

You will use about 1 teaspoon per 8 ounces. You can adjust this to your own taste.
1 bag of our tea will typically make 40 - 60 - 8 ounce servings.



To brew your tea-


To extract the essence out of herbal teas, they must be brewed in water that is at or near boiling and for a duration of 5 - 7 minutes. For a more medicinal effect steep 15-30 minutes. Will keep refrigerated for 24 hours.