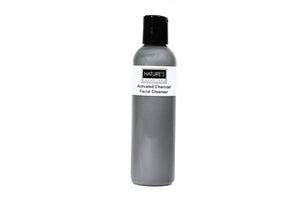 The Activated Charcoal Cleanser is an incredibly absorbent, refreshing one-step cleanser which is packed with extracts, vitamins and oils that will moisturize so as not to destroy your lipid barrier, while the charcoal deeply cleans all the bacteria away. This Activated Charcoal Cleanser is very effective for blemished, oily, combination and normal skin types. It contains both a cream-based cleanser and surfactants. 
Ingredient-wise, the cleanser is composed of oils, fats and mild surfactants, which are mild and effective cleansing agents. Oils and fats are actually complex compounds called triglycerides. All oils and fats are mixtures of triglycerides with different fatty acids attached. To further explain, an oil molecule is formed from one glycerin molecule and three fatty acid molecules. All fatty acid molecules are lipophilic and hydrophilic. Lipophilic means that a substance has a great affinity for oil, while hydrophilic means that a substance has a great affinity for water. The glycerin component of an oil or fat is an alcohol with three locations on its molecule where the hydrophilic molecule of the fatty acid attaches. 
The cooperation of the hydrophilic and lipophilic molecules allows the cleanser to break past the surface tension of the skin and remove the dirt and oils beyond your skin surface. The hydrophilic molecules are attracted to water, which helps the water dampen the skin surface deeper and more thoroughly than normal. Without the dampening assistance of the hydrophilic molecules, the product would simply bead up on the skin. The lipophilic molecules act like a magnet to dirt in the skin; once the molecules encounter the dirt, they cling to it and allow it to be washed off. Likewise, lipophilic molecules show affinity toward oil, which is washed away in the same fashion. 
Skin Types:
Blemished - Oily - Normal - Combination 
INGREDIENTS
Organic Aloe Leaf Juice, Organic Alcohol, Organic Olive Fruit Oil, Cocamidopropyl Betaine, Decyl Glucoside, Lauryl Glucoside, Emulsifying Wax, Glycerin, Organic Jojoba Seed Oil, MSM, Organic Rooibos Leaf Extract, DMAE Bitartrate, Hyaluronic Acid, Activated Charcoal, Tamanu Oil, Organic Green Tea Leaf Extract, Organic White Tea Leaf Extract, Usnea Extract, Organic White Willow Bark Extract, Provitamin B5, Vitamin C Ester, Vitamin E, Sunflower Seed Oil, Xanthan Gum, Ginger Root Oil, Tea Tree Leaf Oil, Lavender Flower Oil, Pink Grapefruit Peel Oil, Cedarwood Oil, Cistus Oil